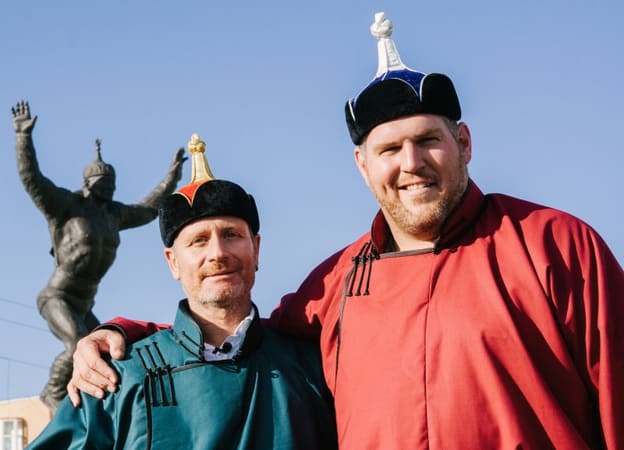 Chrigu and Sepp in Mongolia
From Salzburg the journey continues to distant Mongolia. Where a traditional wrestling called "Bökh" is a national sport and it is as popular as swinging in Switzerland.
Here they don't fight barefoot, and so in the capital Ulaanbaatar, Chrigu receives the traditional wrestling outfit and his size 51 boots which impressed the local shoemakers.
Fully equipped Chrigu heads to the western province of Mongolia where the country's most powerful wrestlers are from, they continue their journey in a small plane and a Russian Van. On the way they meet the legendary eagle hunters and reaching the village where the tournament will be held.
There a former trainer Bat-Ochir takes Chrigu under his wing and introduces him from eagle dance on the archery to the fight in the culture of the sons of Genghis Khan. Meanwhile, Sepp is practicing the traditional Mongolian Khuumii singing, he is supposed to perform at the tournament.
The way to the fight is a test for Chrigu and for the yodeller Sepp a real expedition.
"Chrigu and Sepp" becomes a special kind of travel show, showing foreign countries from a different and unknown side.